Simmons Bank Welcomes New Senior Vice President and Trust Officer - August 29, 2017
LITTLE ROCK, AR – Simmons Bank is excited to welcome S. Lee Rush, who will serve as senior vice president and trust officer for the bank's wealth management group. Rush joins the Simmons Bank family after 18 years serving in various roles with Regions Private Wealth Management.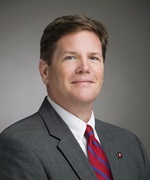 Rush began his career at Regions in 1999 as vice president and trust officer for Regions in Little Rock. In 2005, he took on the role of vice president of business development. Two years later, he was promoted to senior vice president and Little Rock trust manager. Since 2012, he has served as the Arkansas area business manager. He brings to Simmons Bank his years of experience in leadership, professional development and administrative management skills.
Rush received a Bachelor of Arts degree in political science from the University of Arkansas in Fayetteville and graduated with a Masters of Public Administration from UA Little Rock. He was an honor graduate of the Arkansas Bankers Association Trust School, attended Cannon Trust School and is a graduate of the Little Rock Regional Chamber of Commerce Leadership Greater Little Rock Class XXVI.
Rush has served on the boards of the Arkansas Repertory Theater, Historic Arkansas Museum, and Centers for Youth and Families. He is former president and treasurer of the Central Arkansas Estate Council in Little Rock.
About Simmons Bank
Simmons Bank (Member FDIC) is an Arkansas state-chartered bank that started as a community bank in 1903. Through the decades, Simmons has developed a full suite of financial products and services designed to meet the needs of individual consumers and business customers alike. Simmons has grown steadily to approximately $8.6 billion in assets as of March 31, 2017, with 150 branch locations throughout Arkansas, Kansas, Missouri and Tennessee. It is the subsidiary bank for Simmons First National Corporation, a publicly-traded bank holding company headquartered in Pine Bluff, Arkansas. For more information, visit http://www.simmonsbank.com/.
About Simmons Wealth Management
Under the banner Simmons Wealth Management, more than 150 experienced financial professionals provide a diverse set of products and services to help protect and grow customer assets. Simmons Wealth Management is a marketing name for certain business operations of Simmons Bank (Member FDIC and an Equal Housing Lender) ("Bank") and its affiliates, including securities and other investments, which are offered through Simmons First Investment Group, Inc. (Member FINRA and SIPC); insurance offered through Simmons First Insurance Services, Inc. and Simmons First Insurance Services of TN, LLC; and the trust and private banking operations of the Bank. Investment and Insurance Products Are: Not a Deposit | Not FDIC Insured | Not Insured By Any Federal Government Agency | Not Bank Guaranteed | May Lose Value
FOR MORE INFORMATION CONTACT:
CAROLINE P. MAKRIS
Simmons Bank
VP/Manager Marketing & Communications
501.944.0518 (mobile)
501.377.7615 (office)