Malware
Malware, short for malicious software, is a program designed to damage, disrupt or compromise a computer or device. More common names for malware are virus, ransomware, worms, trojans, spyware, etc. Malware is delivered to systems in a variety of ways, from links or attachments in a compromised email, to advertisements that entice you to click through to bogus websites that can appear legitimate.
One of the most common indicators of malware on a device is system slowness — slowness to open programs or browsers, slowness to log on and off your device, etc. Programs automatically opening and closing can also indicate that something malicious has been installed on your device. Another common indicator is unwanted programs being installed on your device. Random pop-ups and ads as well as toolbars appearing in your internet browser can all indicate compromise.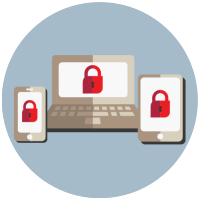 Tips to avoid malware
Install antivirus on your devices and ensure it stays updated.
Run regular anti-virus scans on your machine. These scans can be scheduled to make it easier on you.
Apply system updates to your devices regularly to patch vulnerabilities that malware variants can exploit. These updates can also be scheduled.
Think before you click! Take a good look at emails that ask you to open attachments or click links. When you navigate to a website, ensure that there are no typos leading you to a fake site that looks like the real one.